Wir, die Mini 'a' touristen sind hervorgegangen aus dem Club Mini-Freaks Rhein-Main, und bestehen demnach seit Dezember ´99. Die Umbenennung hatte zahlreiche Gründe, auf die wir hier nicht näher eingehen wollen. Zur Zeit zählen wir etwa 15 Mitglieder. Ziel und Zweck unseres Clubs ist es, daß Gleichgesinnte zusammentreffen, die vom Mini-Virus befallen sind, um Erfahrungen auszutauschen, auf Treffen zu fahren oder einfach nur Spaß zu haben.
Unsere Mitglieder stammen aus den unterschiedlichsten Orten im Rhein-Main Gebiet, wie Mainz, Wiesbaden, Nauheim, Langen, Braunfels oder Bad Homburg. Etwa alle 2 Wochen treffen wir uns in Wiesbaden oder Mainz zum gemütlichen Beisammensitzen und Planung unserer weiteren Aktivitäten.
Wir freuen uns über jeden, der einfach mal bei uns reinschaut, und wenn es ihm gefällt natürlich auch bleibt.
Näher Infos zu uns findet Ihr hier: http://www.mini-a-tour.de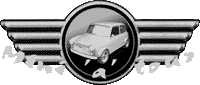 ------------------
Gruß
Frank
webmaster@mini-net.de
http://www.mini-net.de
--------------------------------------------------
It´s the image of you...